Long Island Kitchen Remodeling
Devito's Home Improvement is Long Island's #1 general contractor. Call us today at 631-943-1269 or 516-666-7077 to obtain a friendly, fast and free, no-risk consultation and estimate.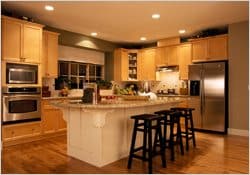 Many times, the kitchen is the focal point of a beautiful home. It's a place where birthday candles are blown-out, meals are shared and memories are made. A properly designed kitchen will allow you to execute exactly what you've wished for in your dream kitchen. Our design team will work with you to incorporate construction, plumbing, electrical, appliance locations, light fixtures, flooring, windows, painting, trim, traffic patterns and sitting areas allowing you to accomplish the look that you desire and the functionality that you need in a great kitchen area.